ENHANCING THE HEALTHCARE EXPERIENCE THROUGH ENGAGING PRINT GRAPHICS AND PERSONALIZED COMMUNICATIONS


Creating a patient experience that is both engaging and personalized is a top goal for healthcare marketers. Whether it's delivering targeted, personalized communications or creating a warm, inviting environment, The Vomela Companies collaborates with healthcare facilities to generate options for your hospitals and clinics.
Thanks to customer data, healthcare facilities can now engage in multichannel marketing campaigns, personalized automated reminders, geo-targeting for hospital and clinic marketing - these are just a few of the ways we act as a problem-solving, collaborative print partner for our healthcare industry clients.
While there is no "one size fits all" approach for hospitals or clinics; we begin each client engagement with a genuine conversation. What are your challenges? How can we solve your unique problems? Vomela is a service-oriented visual communications partner that transforms ideas into memorable experiences and finds creative solutions for all challenges.
Read on for some examples of the creative approaches we've used to enhance patient experience and loyalty. Maybe you experience the same issues, or maybe your challenges are completely different. Allow these mini case studies to inspire you and get the creative juices flowing.
Engaging Patients Through Environmental Graphics

A personalized and targeted approach is just one way that hospitals and clinics are improving patient communication and outreach. Once you've captured their attention and they walk through the door, how is that experience continued?
The right signage and interior decor create a welcoming environment for your patients and their families. It also inspires donors, vendors, and the wider community to engage with your space.
A hospital campus can be intimidating. Wayfinding signage serves a practical purpose - helping your patients know where to go - and it can also establish your brand and send a message that you care.
Does your entrance bring your brand to life? Our goal is to help you create vibrant environmental and visual graphics to showcase your brand, history, mission, vision, or values while building a sense of purpose and pride in what you do. From sign and graphics development through installation, your innovative, collaborative partnership will help you achieve the quality you expect as we meet your time frame, budget, and unique needs. Common offerings include:
Wayfinding Signage
Wall Murals - History Walls & Timelines
Vinyl Graphics
Floor Graphics
Window Graphics
3D Logos and applications
Signage Systems
Elevator Graphics
Case Study: Personalizing, Automating, and Geotargeting
THE CHALLENGE
When a sophisticated marketing team with a local healthcare company approached us with the challenge of driving new patients into their local system, we turned to data to create a unique campaign.
THE SOLUTION
By using data involving people who had recently moved to a targeted location, we used geo-specific marketing strategies to personalize messaging by clinic, doctor, specialty, and healthcare service location. Our automated campaign sends elaborately personalized direct mail to new residents on a monthly basis. The direct mail piece has the following components:
Introduction to the area
Welcome
Free first aid kit offer with PURL (personalized URL)
800 number
Business reply cards
Tracking
The pieces below represent each wave of the campaign:
New mover data, print materials embedded with PURLs (personalized URLs)
Eight versions mailed with different information based on zip code and targeting data
Confirmation letter to those who respond

Response rate is high, and campaign spend is ~$5/family, which generates on average ~$1,800/visit.
THE RESULTS
The campaign has been so successful we are in our sixth year of supporting this healthcare system's team with complex marketing programs through personalization. Tracking reports back to the hospital that accounted for ROI of spending per family, and revenue generated per visit. Results show that the response rate is high, and campaign spend is ~$5/family, which generates on average ~$1,800/visit.
---
CREATE PERSONALIZED CAMPAIGNS THROUGH DATA


One of the best ways to use your data and get patients in for their annual checkups and visits is through reminders. This can include things such as blood pressure checks, health related topics such as flu shots or diabetes screening, new physician announcements, information session invitations donor programs and even employee recruiting programs.
In this example, we set up automated postcard or personalized letter reminder campaigns for a savvy healthcare system. Their marketing team works with our specialists to create strategic campaigns that utilize data, automation, and robust printing capabilities. The sophisticated campaigns produce strong results for this client, which keeps them coming back to us with new ideas and challenges to solve.
The automated postcard reminder campaigns send notices by topic or condition, and they are targeted and personalized for each consumer. Using hospital data systems, we mail to homes and track downstream patient activity. Or we can generate new patient mailing lists by profile and sorting by zip code, then track downstream activity. We take data security seriously and have SOC2 Type 1 and HIPAA compliance policies and practices in place.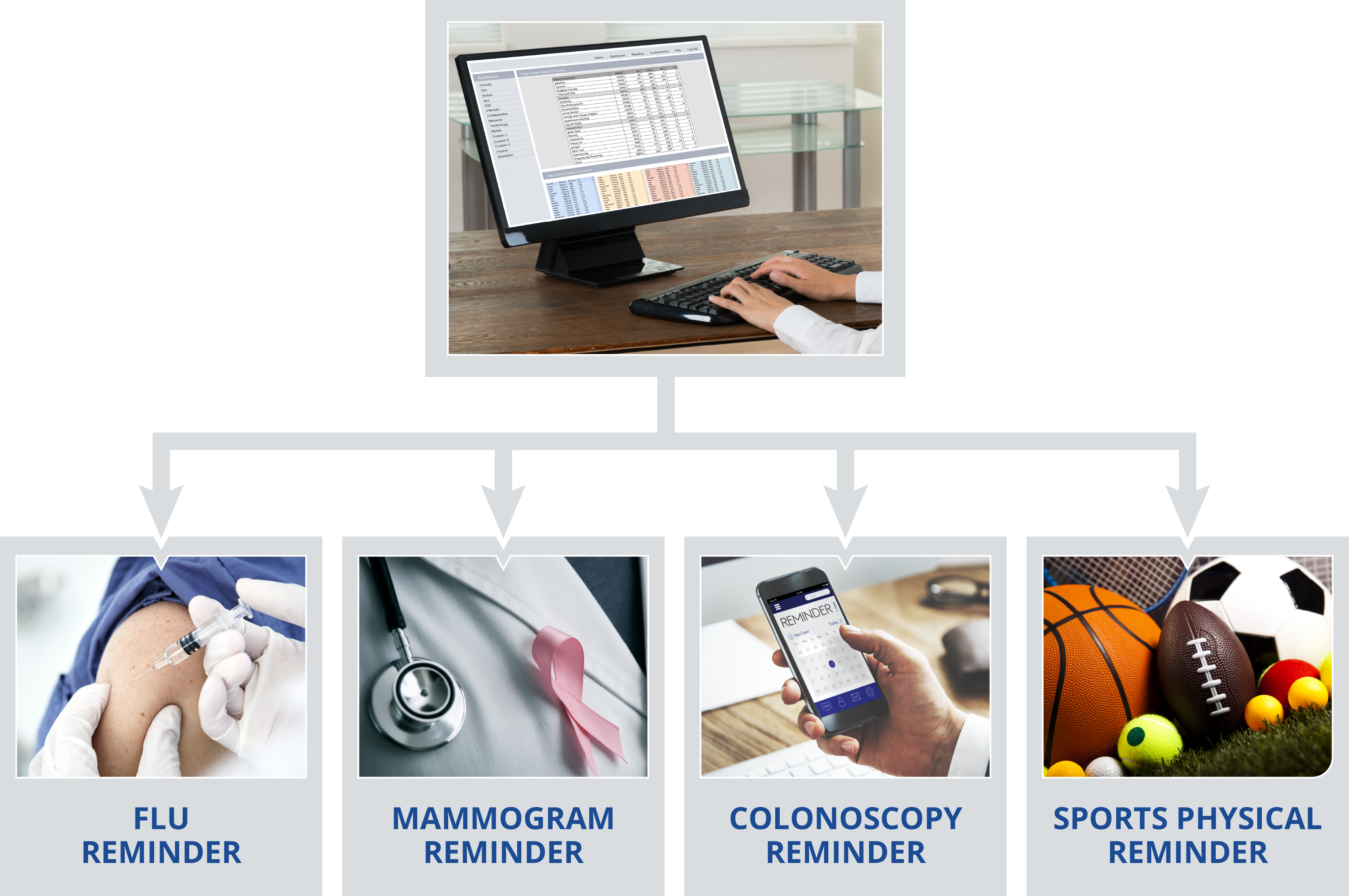 Online Content Management & Ordering Tools


Online ordering is a tremendous advantage for healthcare networks. Your key personnel can login to a custom online portal and order any variety of print collateral, such as welcome letters, office brochures, physician cards, and wellness promotional materials.
Once you've placed an order the next hurdle is getting the materials to the right place. We've created logistical solutions for this, as well.
Client Story:
When our client came to us, their print orders were getting lost at the delivery dock. Deliveries can get caught up in a huge network, and it requires a certain level of personal service to get brochures, new patient cards, physician business cards, reminder cards - whatever your office needs - to the right location.
This particular hospital system had 1,200 different locations. We customized their ordering process so that they could order online and their delivery would come directly to a designated desk location.
The Tools That Make Online Ordering Simple
Your practice wants to send a welcome letter announcing a new physician to the group. With online content management tools, you can set up customizable templates and automation to simplify this routine communication.
A user can then login, open the Physician Welcome Letter template, and click "customize". They are able to fill out a form to customize the standard letter, with details about the new physician, upload an image, select the correct signature from a preloaded list of signatures, select quantity, etc. They can then preview the letter, save, and proof.
Healthcare-Friendly Materials and Secure Processes


Non-Toxic Ink and Substrates for Sterile Hospital Settings
The Vomela Companies is considered a "small" emitter of VOC emissions. While we have grown substantially as a company in the last 10 years, we have sustained our "small" emission status by switching out chemicals that have higher emissions (such as the use of UV, latex and aqueous based inks over solvent as noted earlier) and by utilizing newer equipment such as digital presses over traditional screen print presses that have lower emissions per part. In the print industry, emissions are mainly driven by the inks, (amount and type), and the equipment used. The more ink used, the more emissions. Thus, The Vomela Companies is always looking for ways to use less ink while exceeding print quality expectations demanded by customers. The Vomela Companies have reduced emissions by approximately 90% through movement away from solvent based inks.
SafeshieldTM Coatings to Create Antimicrobial Surfaces
We offer antimicrobial materials that protect touch screens and surfaces. This material offers a 99.99% reduction in Escherichia Coli, Staphylococcus Aureus, Methicillin-resistant Staphylococcus Aureus (MRSA) and Clostridium Difficile (C.difficile or C. diff) (As tested JIS Z-2801)
HIPAA Compliance
We understand that in the healthcare field, there are serious repercussions if data is not handled properly. Our data security model is based on the pillars of confidentiality, availability and integrity of data, which provides our clients with the assurance that the highest standards of data usage are being met. Elk Grove Graphics, a Vomela Network Company, has extensive experience and a proven record working with clients in the healthcare field. EGG also keeps contracted HIPAA compliance consultants to help maintain our HIPAA compliance related policies, to keep procedures current, and advise on any PHI (Patient Health Information) related concerns on usage or data handling.
Tools That Enhance Productivity
Integrated reporting tools allow our clients to effectively manage campaigns and utilize large volumes of data. Efficient data collection and handling enhances both current and future campaigns. Additionally, compliance reporting becomes more intuitive and seamless.
Electronic Storefronts
Robust online tools - conveniently accessible on your PC or mobile device - give you the ability to centrally manage and control your print and marketing assets while delegating the work of placing orders where it belongs, out in the field.
Pick & Pack Fulfillment
Complete pick & pack, hand assembly, machine matching, inventory and warehouse solutions are all in house. On and offline inventory / warehouse solutions are available. Our proximity to ORD Airport gives us convenient access to all the major air and land freight carriers.
CASE STUDY: Healthcare Marketing & Print Graphics
These case studies highlights some of the ways you can turn ordinary spaces into extraordinary experiences for patients and staff alike.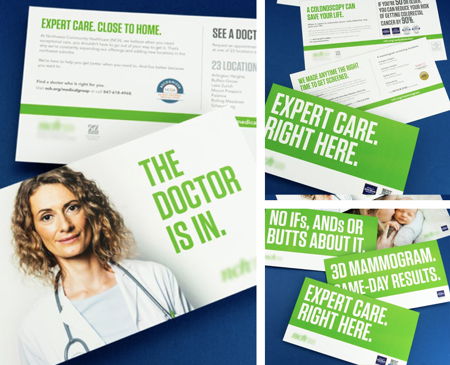 About the Project
When a Midwest community hospital needed assistance in building patient engagement, they turned to Chicago-based Elk Grove Graphics, a Vomela network company, to assist them. They wanted to send personalized direct mail pieces to patients who had visited the local urgent care facility, with each piece addressing the patient's specific need. As with any project involving sensitive information, confidentiality and data security are key considerations when selecting a print vendor.
Download the Case Study
About the Project
As Novant Health prepared for the opening of their newest facility, Charlotte Orthopedic Hospital, they needed help in branding their hallways, highlighting their partnership with four local athletic entities, and developing a creative patient progress area for the rehabilitation space.
An eight-year print graphics partnership with The Vomela Companies Transportation Group in Highpoint, NC, made them a natural choice for Novant Health, the 2nd largest health system serving North and South Carolina, Virginia, and Georgia.
Download the Case Study
Graphic Wraps for Healthcare Vehicles
The Vomela Companies is your comprehensive, collaborative printing partner - from hospital and clinic signage, to high-quality emergency vehicle wraps (and more). As one of the largest fleet suppliers in the U.S., The Vomela Companies has extensive experience with large and small vehicle graphic programs. Here are examples of our work:
Let's Get Started
The Vomela Companies network of specialists can help your campaigns target the right people through the right channels, while remaining agile and responsive to your audience's preferences and needs. The Vomela Companies produce vibrant environmental and visual graphics to showcase your brand, history, mission, vision, or values while building a sense of pride and purpose. From sign and graphic imagination through installation, you will receive the quality you expect as we meet your time frame, budget and unique needs.
Hospital and Clinic Signage and Graphics
Wall Murals
Vinyl Graphics
Floor Graphics
Window Graphics
3D Logos and applications
Signage Systems
Directional Signage
Non-toxic Inks
Safeshield™ Coatings
Fleet Graphics
Multichannel Marketing for Healthcare Systems
HIPAA Compliance
Electronic Storefront
Pick & Pack Fulfillment
Direct Mail
Data-driven Systems for Personalized Campaigns