Branding for School Spirit and Student Engagement
A strong school brand encourages students, faculty, alumni, parents and fans to demonstrate their spirit. School spirit isn't just a fluffy marketing idea – it translates to business objectives by feeding the energy of your potential and existing stakeholders. They'll be more engaged with recruitment, sports attendance, and school spirit in general.
Your school's brand comes with history and legacy. Students feel proud to move on from the institution, local communities are interconnected with their schools and colleges, and both students and the community band together to root for their teams. Supporting your brand with the right print graphics and materials is crucial for brand awareness, increased exposure and differentiation from competitors.
Large Network Capabilities for Schools of Any Size
Whether or not your school has extensive branding experience, a strategic partnership with our experienced team will guide you in the right direction. The Vomela Companies can scale to any size educational graphics project — from a large university campus-wide rebrand to nutritional posters for your school's cafeteria. Our North American footprint and extensive capabilities offer a local presence and the reach to assist your educational institution.
All-in-One
We offer a complete solution. Our experienced education graphics teams have everything you need under one roof. We conceptualize, design, print, build, package, ship, install and manage every project.
Online Tools for Approvals
Your print partner should utilize an array of tools that make it easy for you to approve artwork and proofs. Our online tools let you easily grant approvals, see complex project details, manage conversations, view shipping details, and monitor logistics information.
Dedicated Project Manager
Our clients get a dedicated account manager who sees the project through from planning to installation and our complete project management system streamlines your project and improves accuracy.
Installation
The Vomela Companies employ a vast array of installation professionals across North America. We have the resources available to get your project installed and looking great, no matter what challenges may arise.
Design
In-house design capabilities include a team of talented artists and 3D structural designers experienced in designing for print and manufacturing custom tension fabric displays in our facilities.
Logistics
We have a fully computerized, barcode enabled shipping and receiving department. We are able to ship anywhere in the world 24/7/365 with a full online tracking system to guarantee your order arrives when you need it and how you need it.
Physical Considerations for Educational Settings?

Once you've established a brand and settled on some key messaging for your student body, you're ready to install print graphics. Here are some recommended considerations for educational settings: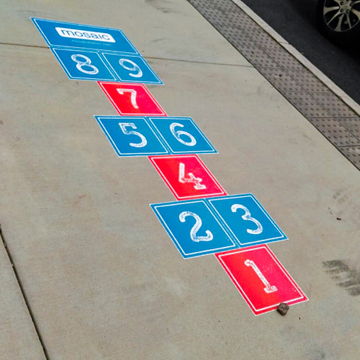 Durability
Classrooms, cafeterias, and gymnasiums can be extreme environments for print graphics. In these settings, it's wise to use sturdy substrates, potentially coated in a material that protect them from all matter of contact.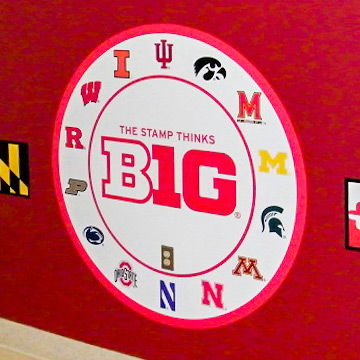 Longevity
How long are your graphics staying up? Temporary graphics or signage can be created with more cost-effective materials, whereas permanent graphics will benefit from the highest quality materials in the long run.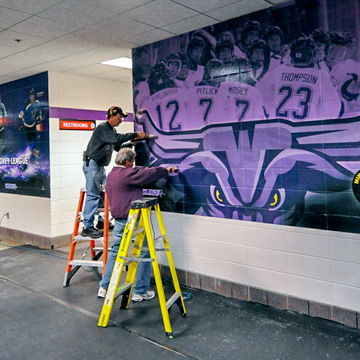 Installation
For large or complicated projects, it's wise to work closely with an experienced print provider. They'll be able give valuable insight into which substrates work best with certain surfaces. They'll also be able to provide a local, certified installation team to make sure the job is done right the first time.
Graphics Trends and Print Solutions for Education

Vinyl & Fabric Banners
Our full-color banners are printed on 13 oz vinyl, which is rated for indoor and outdoor use and can come with RF Welded hems and grommets. They are completely customizable, which makes them ideal for use on campus buildings or interior halls.
Depending on the type of athletics event or campus location, you may choose a fabric banner for a more finished, high-end look. Fabric banners with standard finishing include pole pockets and hems. As versatile as vinyl, a fabric banner provides a more distinguished and high-quality look. If you are going for top quality, banner fabric is the way to go. Fabric banners also come in full color and are fully customizable.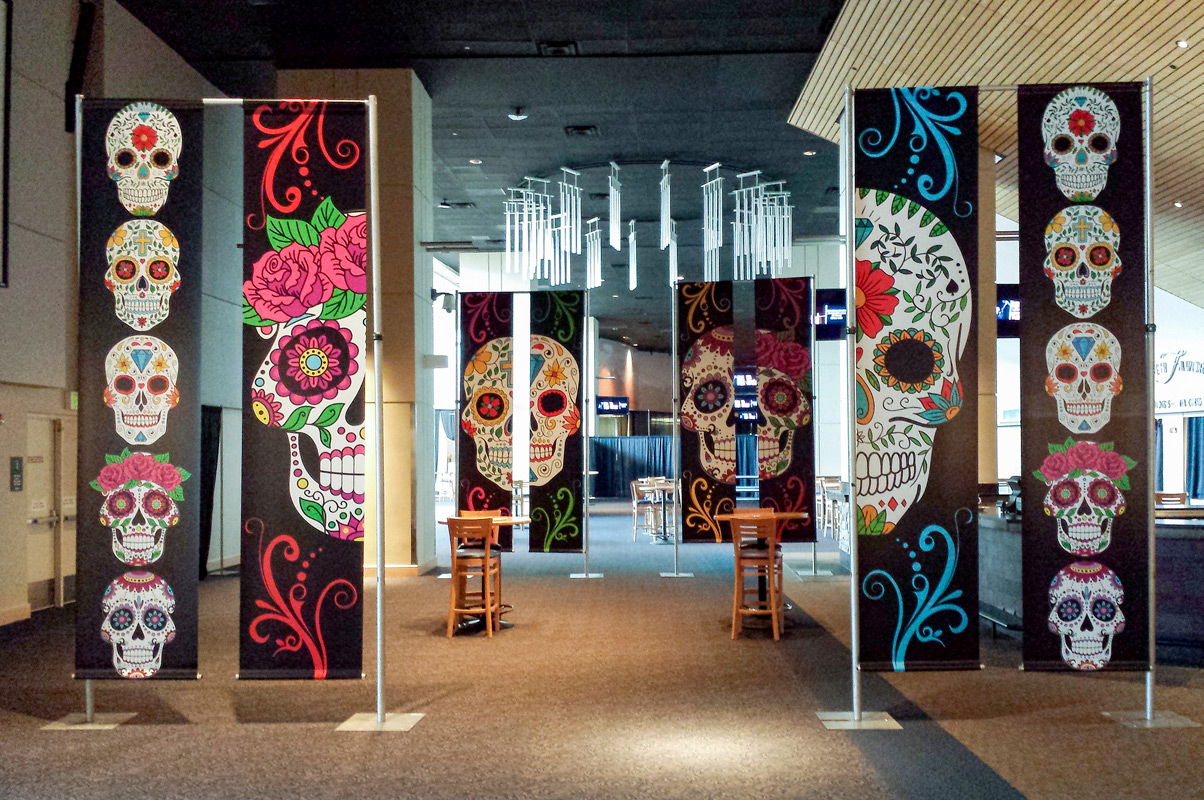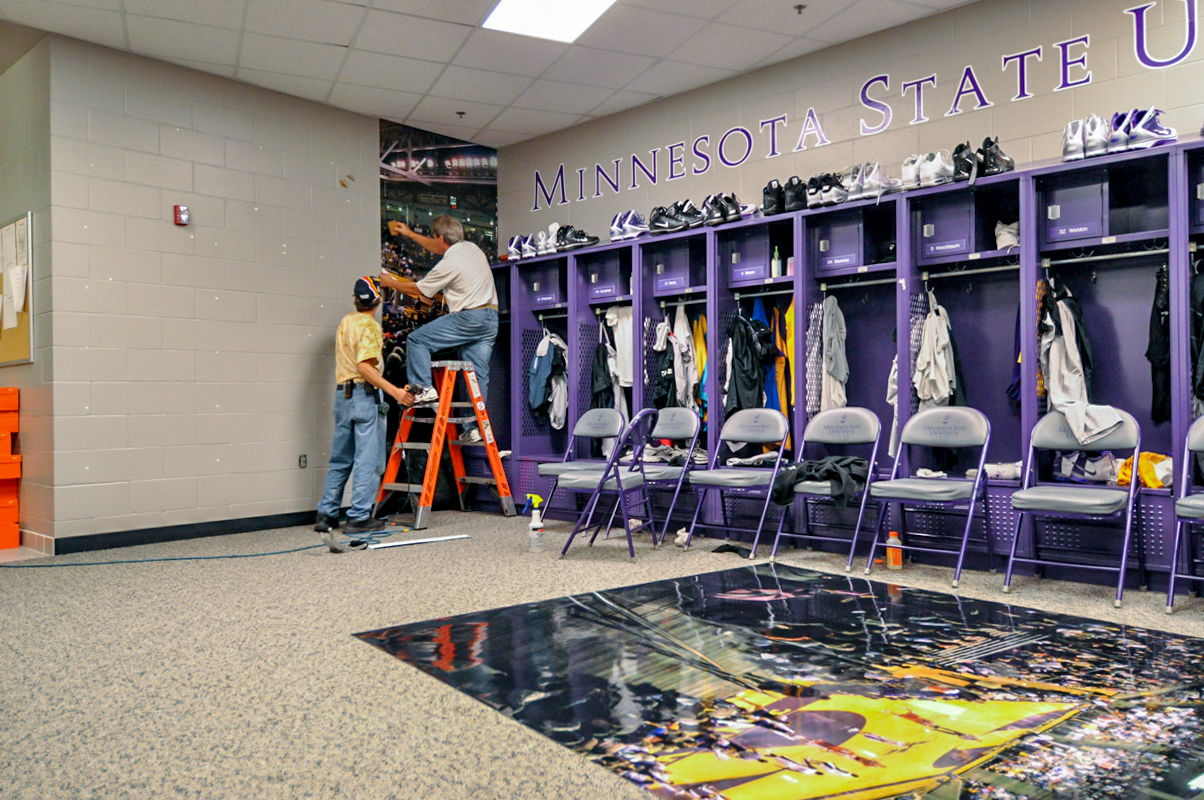 Floor Graphics
Floor graphics are more than just another form of branding; they offer an opportunity to make creative use of space that sticks with your students and campus visitors in a less conventional way. If 95% of students are looking down at their phones, that makes floors and sidewalks prime real estate for graphics.
The very nature of a floor graphic means it needs to be tough enough to withstand traffic while still maintaining a vibrant image. Our partnership with 3M allows us access to the highest quality materials on the market for use in any setting and on virtually any surface. Depending on your exact application we will recommend a material that is scratch, scuff, and slip resistant, while also holding up to commonly used cleaning solutions.
Adhesive decals

3D applications

Printable carpet

Floor mat graphics

Stair applications

Window Film
Window graphics and decals are a must-have for on-campus sports and entertainment venues. Before you make any final decisions about window film, there are many factors to take into consideration. Read more about Window Film applications here.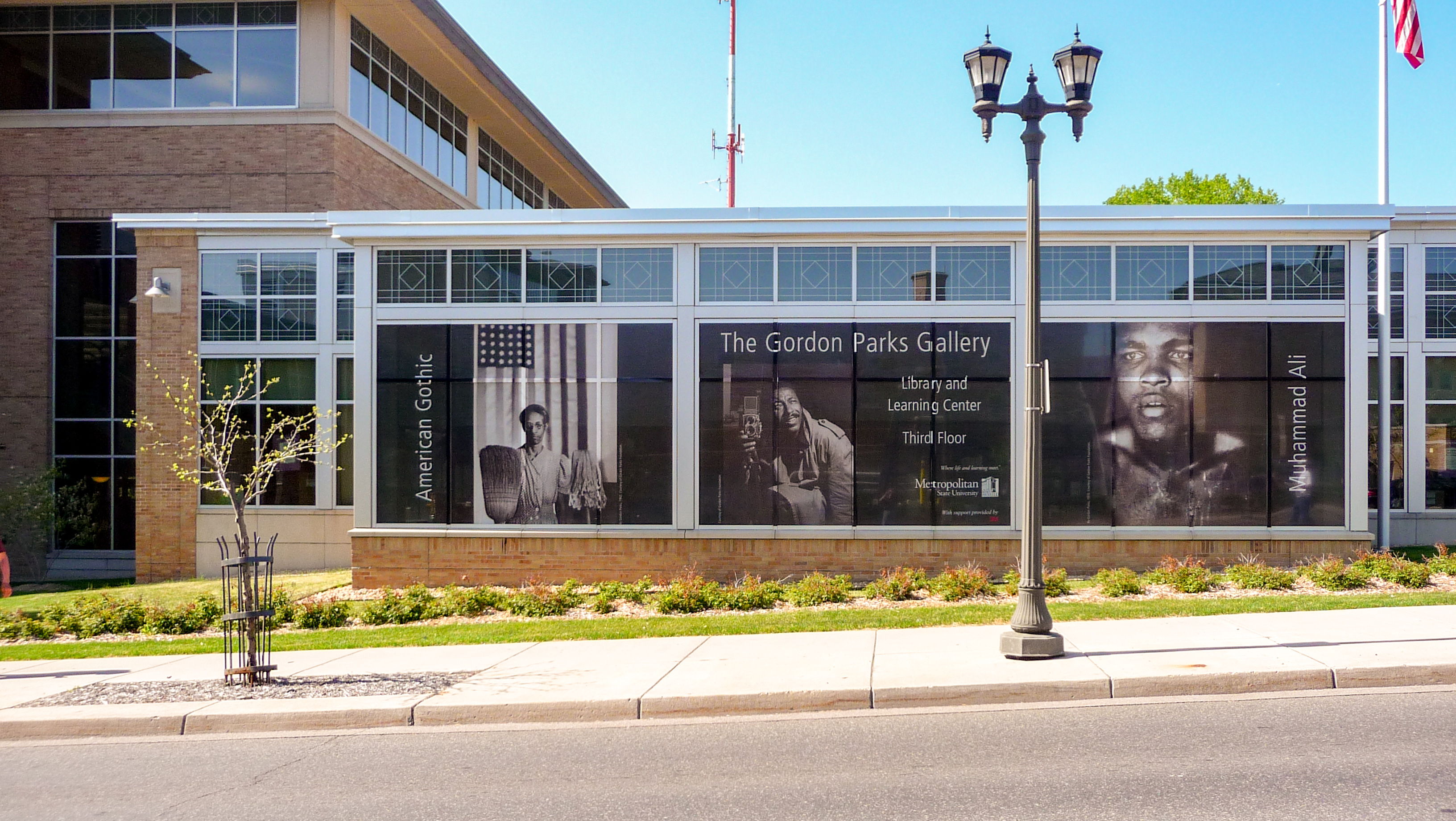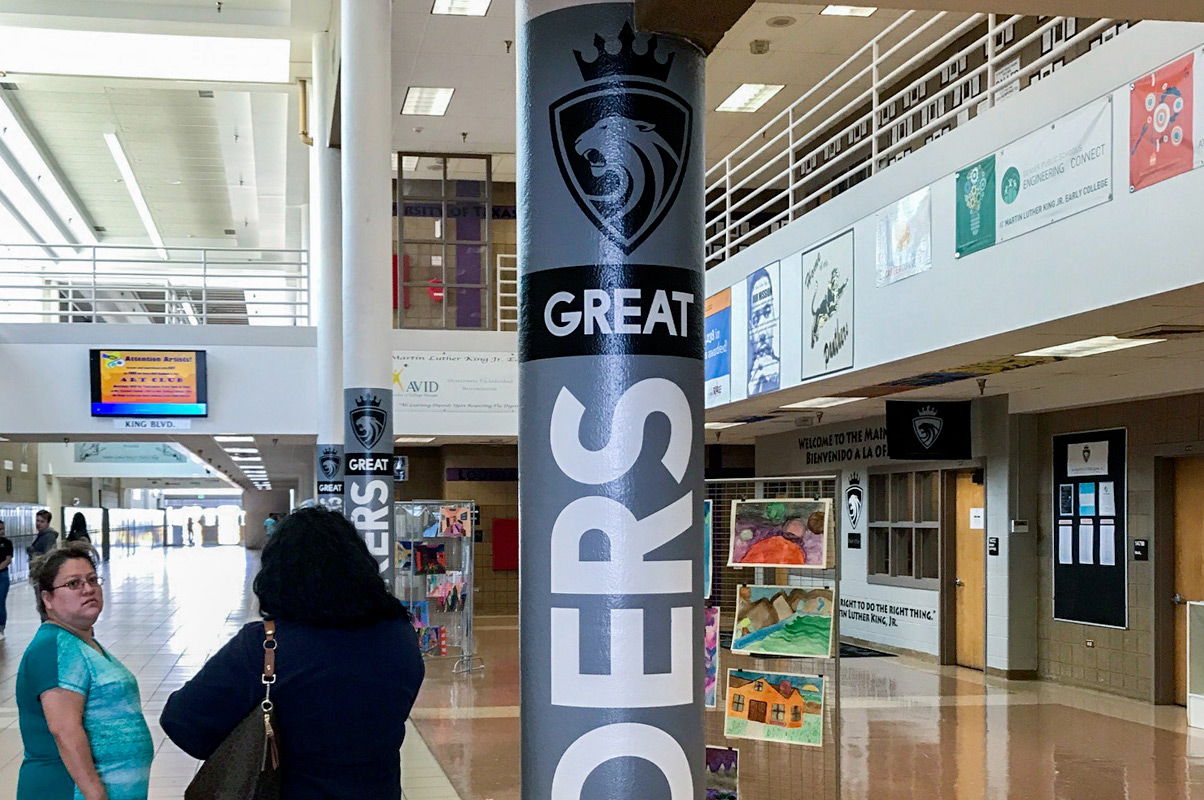 Wayfinding
Wayfinding signage and graphics are essential to helping visitors, new students and faculty, parents, and returning alumni easily make their way around campus. Consider campus entrances, streets and pedestrian pathways, academic departments and athletics zones when designing campus signage.
School and University Athletics Graphics
We do a significant amount of environmental branding and rebranding for sports teams – gym floors, wind fences, dugouts, flag pole banners, wall murals, locker rooms and gyms, windows, doors, and more. Our sports graphics team has handled everything from the Super Bowl to local High School gymnasiums, so no matter the scale of your project, we can deliver.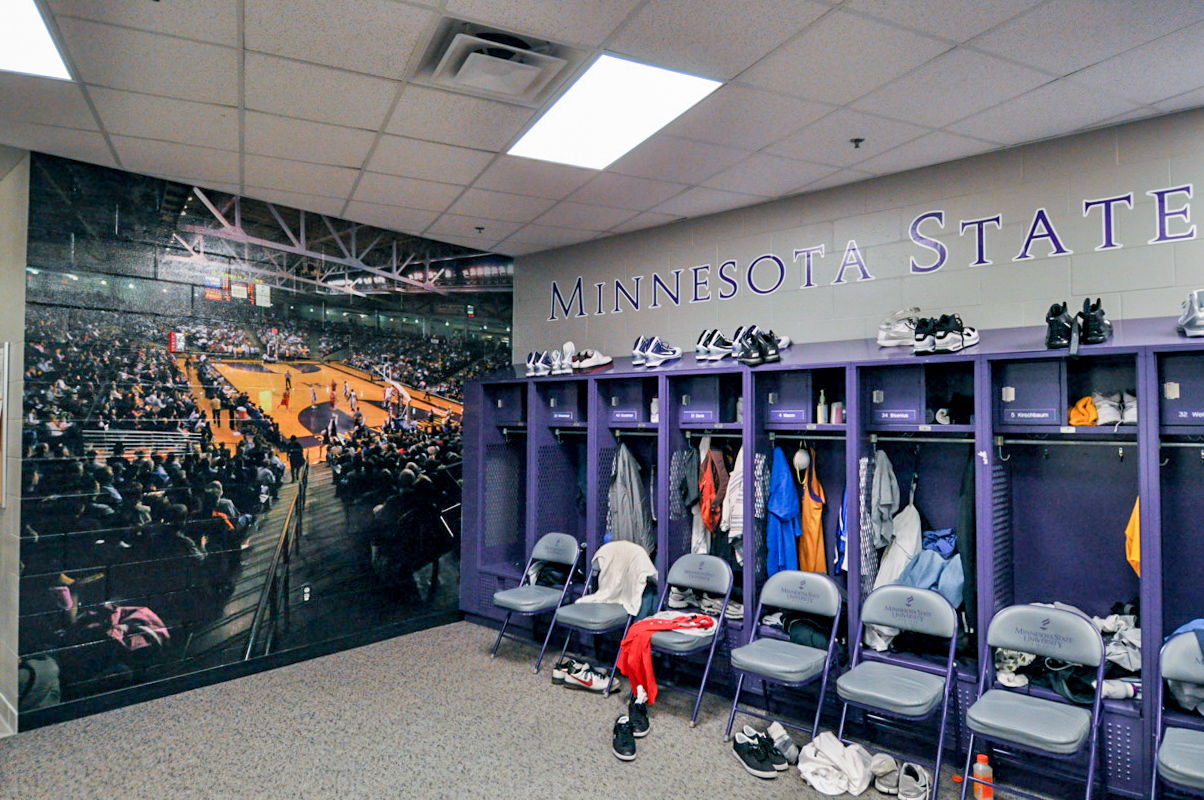 Fleet Graphics on Campus and Local Transit
Raising local engagement can be as simple as wrapping a bus or train. Think about what modes of transportation they may be using, and what their reach is. If the number 6 line goes right through downtown to pick up a bunch of fans for the first home game of the year, a bus wrapped in your mascot and school colors is going to be far more memorable and easier to find.
Your campus fleet of vehicles, from maintenance vehicles to commuter shuttles, present another opportunity to spread your brand message. Watch the video for examples of The Vomela Companies' Fleet Graphics work.
Making Cafeterias More Engaging
Current trends show us that cafeterias are competing with fast food restaurants. Make campus dining a fun experience for students, with interesting visual wraps and graphics on the food carts, food lines, tables, windows, walls and floors. Learn more about how The Vomela Companies helps schools transform their cafeterias with engaging graphics in our portfolio.
CREATE HIGH IMPACT GRAPHICS TO EDUCATE STUDENTS ON HEALTHY CHOICEs
Teaching students how to make healthy food choices can be tricky, but with engaging, colorful graphics that fit an elementary school budget, young learners can confidently choose healthier food options.
Falcon Heights Elementary School is a Minnesota-based K-5 school near the Twin Cities. They were looking for a way to refresh their decades-old cafeteria while educating students on how to make healthy choices. The challenge was to maximize a limited budget while transforming an outdated cafeteria space.
CHECK OUT THE STUFF YOU'LL BE WORKING ON
No two projects are the same! You'll be collaborating with team members to find innovative and creative solutions for every job. There's nothing dull about creating vibrant print!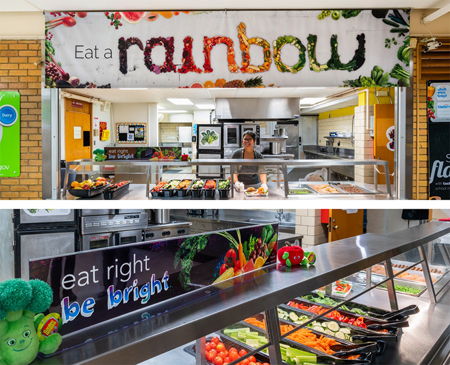 About the Project
Falcon Heights Elementary School is a Minnesota-based K-5 school near the Twin Cities. They were looking for a way to refresh their decades-old cafeteria while educating students on how to make healthy choices. The challenge was to maximize a limited budget while transforming an outdated cafeteria space.
Download the Case Study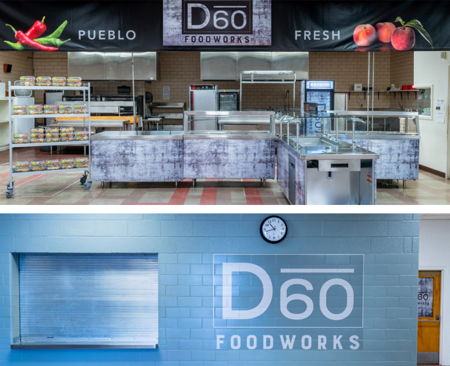 About the Project
Transforming Pueblo Academy's café included creating and installing branded banners, safety window covers, graphics, and wrapping the serving equipment, coolers, and three vehicles. Visualz has a catalog of stock nutrition education materials to quickly improve any cafeteria atmosphere, they can also do a complete custom makeover.
Download the Case Study
DIRECT MAIL DRIVES STUDENT RECRUITMENT
Branding is a key element in alumni engagement campaigns. Your brand evokes the legacy and tenure of alumni and reminds them of the impact the institution had, and continues to have, on their lives and careers.
Once you've built the spirit and raised engagement, reaching out to your alumni base with unique and branded printed materials is a great way to stay top of mind. Direct mail, when used creatively and intentionally, cuts through the digital noise.
Elmhurst College, located just west of Chicago, has plenty of competition. They were looking for a way to stand out and attract more prospective students to their School for Professional Studies informational sessions. In such a densely populated area, they wanted to focus on reaching out to local students who were planning on attending grad school close to home. That's when they decided to call Elk Grove Graphics, a Vomela Company.

Let's Get Started
As one of the largest fleet suppliers in the US, The Vomela Companies have printing and installation facilities located across the nation—making local or far-reaching rollouts seamless. Our approach is all about keeping your fleet on the move by providing a highly streamlined and synchronized process to graphic updates for any size fleet (from 1 to 10,000+).

We provide any combination of:
Design
Project management
Full-size prototyping
Material specification
Print manufacturing
Removal of old graphics
Installation
Value engineering
Inventory management