CONVENIENTLY THE BEST
If there is one thing to keep in mind when wanting something new and innovative in your c-store space, The Vomela Companies should come to mind. Our team delivers consistent quality printing, architectural features, dimensional as well as simple signage for any size project or program through a broad range of services and offerings.
For the past 35 years, The Vomela Companies have provided interior and exterior graphic elements for several major brands in the convenience store (C-Store) industry. We have the experience and the flexibility you may require for your project and a wide range of unique applications/products. Click the link below to learn more about our c-store service offerings!
The Ideas are Endless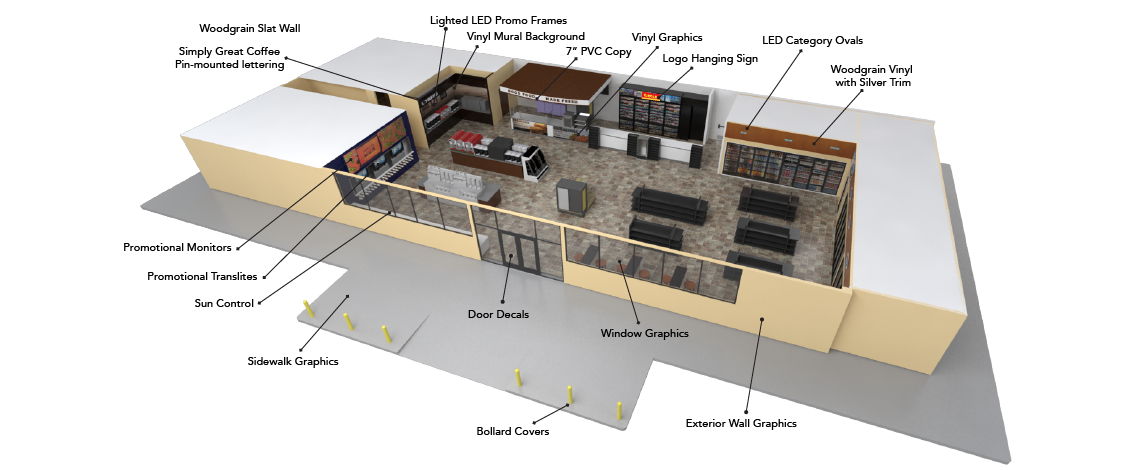 From design and engineering to project management and installation, we provide turnkey solutions to handle all of your needs from start to finish. Products include a range of interior and exterior graphics, displays, and store decor.

Today c-stores are looking to make their customers' experience memorable. Take advantage of your brand and inform customers about the products you have to offer. Consider the implementation of wall, window, ceiling, and floor graphics to transform your store design into sales.
Banners
Cooler graphics
Wall murals
"Under the Canopy" graphics - dispenser skirts, topper, lane identifiers, dispenser valance
Beverage/Food station
Pole signage
Window graphics
Architectural elements
Capture Attention with Less Clutter
Keep in mind that busy environments may make it difficult to direct attention in the correct and most efficient way. At The Vomela Companies, we look to find the best fit for different settings to precisely capture your customers' attention.
Less is more when it comes to making a good first impression with your customers. Keeping it simple, impactful, and pleasing to the customers' eye. Choosing the right graphic provider can help keep you on track. Here are a few things to keep in mind:
Keep it simple
Ask the experts
Less is more
Look into the environment
Always assess your budget
Nationwide Rollouts
Looking for consistent results? Leave the graphics to us and we will keep within your budget and timeline. Assessing the project and locations is essential for a successful nationwide rollout. Choosing an experienced graphic provider can be the difference between success and failure.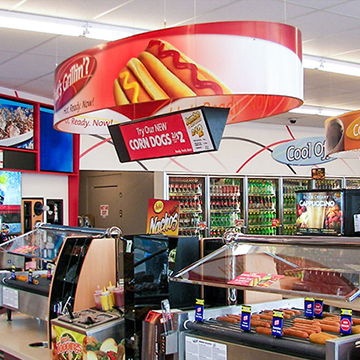 Complex Campaign
No matter how complex the campaign is, we have experience assessing hundreds of locations with unique fixtures and layouts. The right graphic provider can help simplify your campaign management experience. The visual communications experts at The Vomela Companies help design, manufacture, deliver, and install the finished products while creating the best experience for you.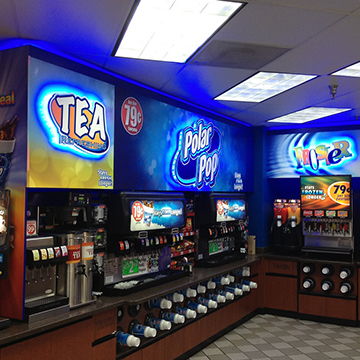 The Vomela Companies offers graphic specialists across North America. Not all store layouts are the same, and we understand the need for multiple sizes and elements to fit each unique format. A site specific layout and Bill of Materials are always on hand and there is full transparency in process control for the best experience possible.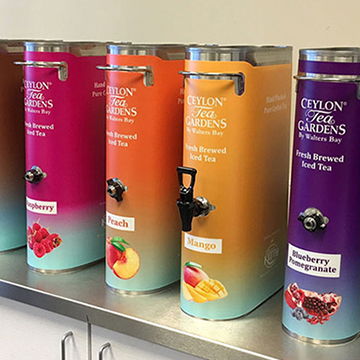 Installation
No need to find an installer - at The Vomela Companies, we coordinate installers nationally who will fit your specific project needs and timelines. Leave the installation process to us.
Easy to Install Graphics
An easy-install, flexible graphics system can make life better for both the employees and the customers. By combining reusable signage carriers/systems and high-quality print media, you can make changeability a breeze. This solution gives your brand a dynamic in-store experience, which can be changed effortlessly at the store level. all while saving your business money in installation fees. Benefits of magnets, Magna mounts, and custom fabricated hardware include the following:
Flexibility: Ability to change out graphics seasonally
Ease of Use: Graphics can be swapped out by employees of any skill level
Eco Friendliness: Can be reused and efficiently stored
Impact: Unique look creates quality engagement
Durable Graphics for High Traffic Areas
From foot traffic increasing In every c-store durability is essential to the longevity of your graphics. Once you've selected what you are looking for in your c-store, keep these different considerations in mind when dealing with durable graphics.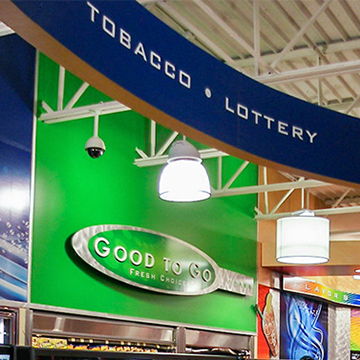 Longevity
How long will the graphic be staying up? Based on most c-store graphics they stay up for long periods of time before needing a rebrand. Temporary graphics are more cost-effective but permanent graphics compare the cost with the long wear and high quality of materials used. Ask your experienced print provider what substrate works best for you.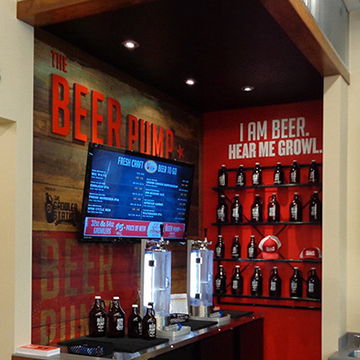 Easy to Clean
When working around food and beverage areas, employees need to be able to clean graphics without damaging them. Easy to clean graphics make it simple for employees to maintain a clean and sanitary environment. Understanding the areas of concern can help us suggest the perfect substrate for your situation.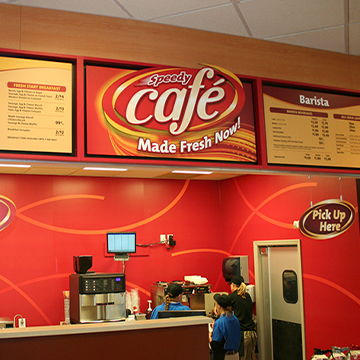 Different Surfaces Potential
C-store graphics can be used on any space and surface. Don't limit your ideas or the potential of your graphics. At The Vomela Companies, we offer a wide variety of substrates that are perfect for different areas and surfaces around your C-store. Full transparency and endless creativity are always provided when working with the right graphics provider.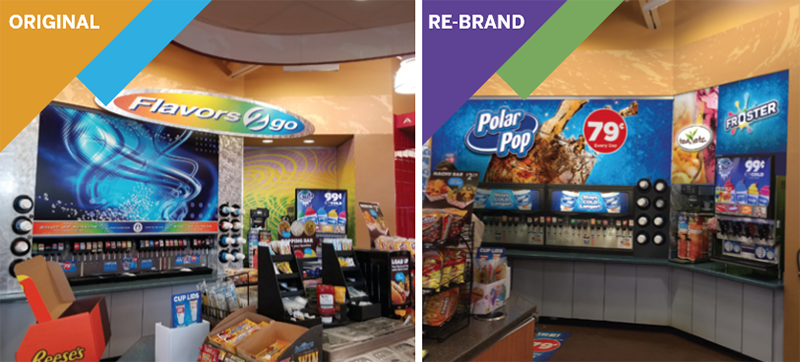 Rebranding: Circle K
A client that has multiple sites and many different formats, a one-size-fits-all approach for this project was not feasible. Each Circle K store may receive approximately 25 different graphic elements for various product areas. However, due to factors including customer site drawings, site visits, store surveys, graphic layouts, and regional specific graphic requirements, The Vomela Companies produced more than 50 unique items to accommodate those requirements of each store.
Capturing Attention in a Busy Environment
Let's Get Started
With more than 20 interconnected locations across the continent, The Vomela Companies turns your marketing objectives into striking visuals that get results. We offer a full range of graphics for all of your interior and exterior surfaces!
• Banners
• Menu boards
• Cooler graphics
• Floor graphics
• Wall murals
• Shelf talkers
• Backlit signage
• Dimensional signage
• Promotional signage
• POP displays
• End caps
• Window graphics
• Pole signs
• Pump toppers
• Canopy graphics
• Beverage and food dispensers
• Beverage and food station
From inquiry through installation, you'll like our people, trust in our approach, and appreciate our ability to manage the details every step of the way.