ARTS & ENTERTAINMENT: EVENT GRAPHICS THAT CREATE A SPECTACLE
From the Super Bowl to the Symphony, event agencies and planners are looking for spectacular graphics to create memories and dazzle audiences. In this guide, we provide tips and resources applicable to event graphics planning in the arts and entertainment industry— concerts, theatrical productions, conventions, marathons, and major sporting events.
Large Network Capabilities for Any Size Event
Murphy's Law can play a big part in this industry and we've pretty much seen it all. Wind, rain, lost shipments, lost drivers — you name it, we've handled it. When things don't go exactly as planned, you need a partner who overcomes obstacles and creates solutions. The Vomela Companies have done that for some of the biggest events and clients around, including the Olympic Games and the Super Bowl.
All-in-One
We offer a complete solution. Our experienced event graphics teams have everything you need under one roof. We conceptualize, design, print, build, package, ship, and manage every project.
Online Tools for Approvals
Your print partner should utilize an array of tools that make it easy for you to approve artwork and proofs. Our online tools let you easily grant approvals, see complex project details, manage conversations, view shipping details, and monitor logistics information.
Dedicated Project Manager
Our clients get a dedicated account manager who sees the project through from planning to installation and our complete project management system streamlines your project and improves accuracy.
Installation
The Vomela Companies employ a vast array of installation professionals across North America. We have the resources available to get your project installed and looking great, no matter what challenges may arise.
Design
In-house design capabilities include a team of talented artists and 3D structural designers experienced in designing for print and manufacturing custom tension fabric displays in our facilities.
Logistics
We have a fully computerized, barcode enabled shipping and receiving department. We are able to ship anywhere in the world 24/7/365 with a full online tracking system to guarantee your order arrives when you need it and how you need it.
Designed for You
We understand your brand is different and your projects are never a one-size fits all. Your design needs are as unique as each project. That is where Vomela Creative Services can help. Some projects require capacity beyond the normal call of duty for your in-house team, needing fast ideation and execution. While other projects require concepting or fresh new ideas. Regardless of your access to creative resources, Vomela Creative Services is the solution.
What began as production design years ago, Vomela Creative Services has quickly assembled into an outward facing team of eight professionals from in-house and agency backgrounds. Our industry experience spans retail, hospitality, transportation, extreme sports, financial, grocery, technology, health/wellness and beyond. Together, their skill set yields copywriting, industrial design, 2D/3D visualization, illustration, research, branding, art direction, visual communications, prototyping, and consumer insights. As a team, they exude innovation, passion, and unparalleled creativity for your vision.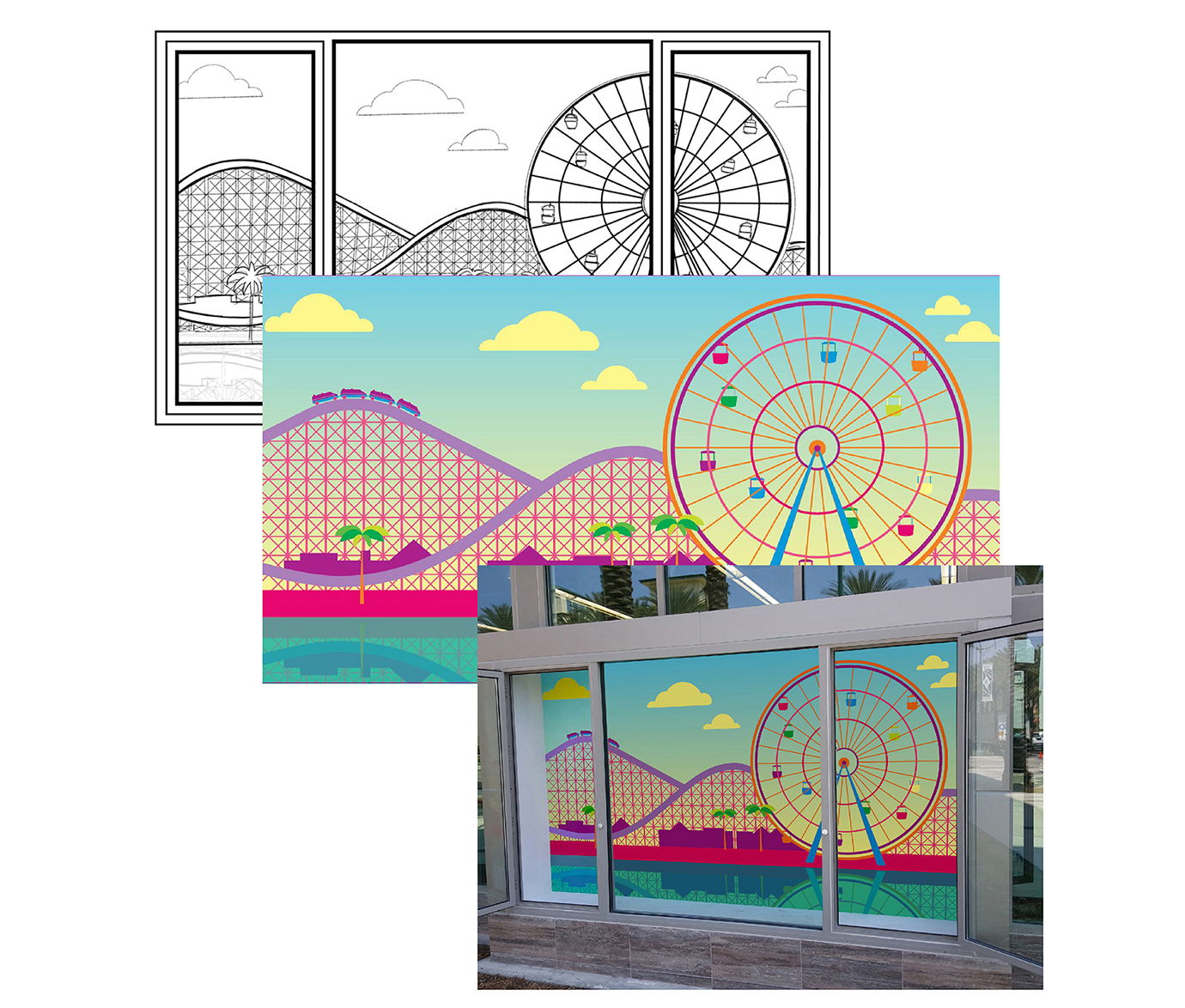 Suite of Services
The Vomela Companies' design team offers any combination of creative services, including:
Concepting
Industry research & strategic planning.
Prototyping
2D drawing & 3D rendering.
Branding
Logos, strategies, style guides, etc.
Graphic Design
Experience designing an array of surfaces & substrates.
In-House Production
Did we mention we can print just about anything?
Large Format Trends & Solutions for Your Event
Vinyl & Fabric Banners
Our full-color banners are printed on 13 oz vinyl, which is rated for indoor and outdoor use and can come with RF Welded hems and grommets. They are completely customizable, which makes them ideal for any event.
Depending on the type of event you are hosting, you may choose a fabric banner for a more finished, high-end look. Fabric banners with standard finishing include pole pockets and hems. As versatile as vinyl, a fabric banner provides a more distinguished and high-quality look. If you are going for top quality, banner fabric is the way to go. Fabric banners also come in full color and are fully customizable.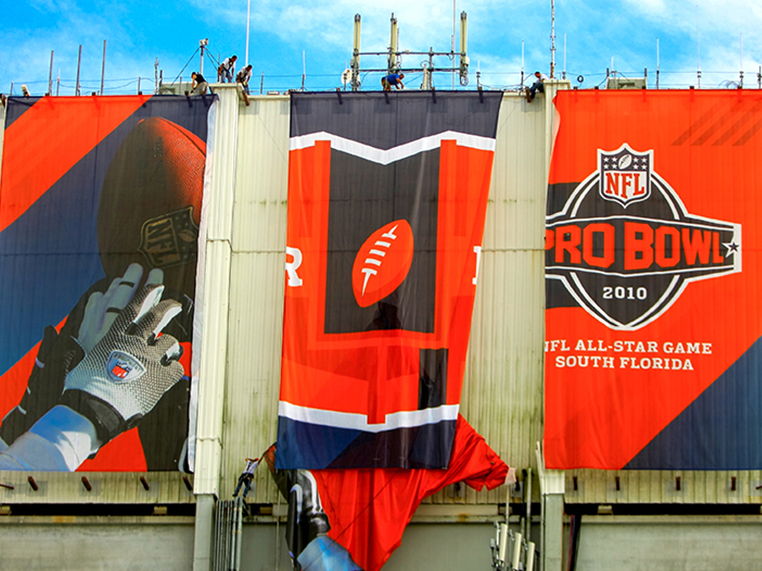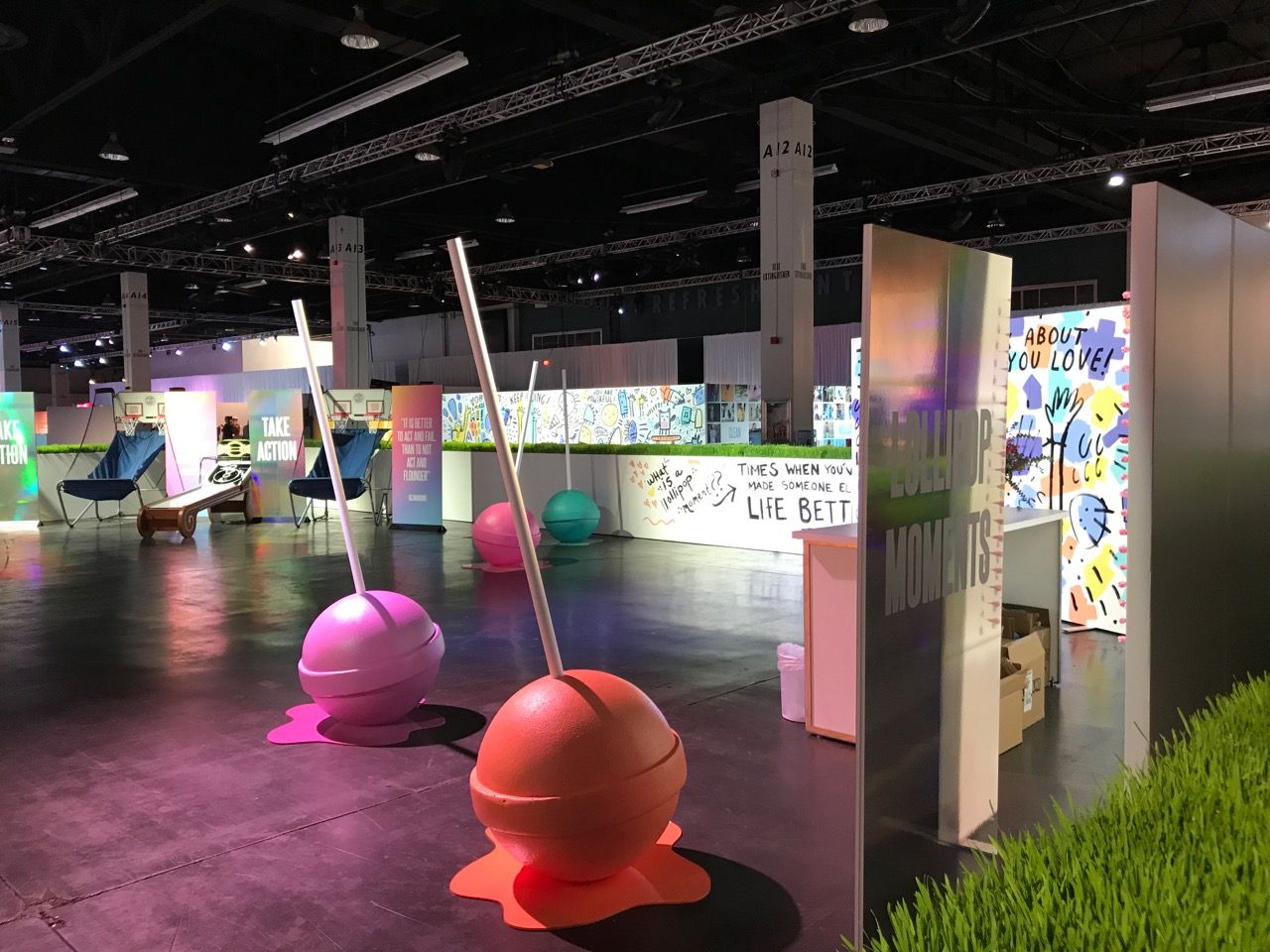 Light Boxes & Metallic Graphics
Our vast array of products from light boxes to custom "rainbow metallic" rigid graphics made a huge impression at this LuLaRoe event. Our event team worked closely with the amazing event company Webb Av, providing project management, logistics, on-site setup and strike.
Window Film
Window graphics and decals are a must-have for major arts and entertainment venues. Before you make any final decisions about window film, there are many factors to take into considerstion.
Will the cling be on the inside or outside of the window?
While a "first surface" application (outside of the window) will give you the best visibility, this isn't always optimal due to adverse conditions, such as rain. Another consideration is washing and care. Some materials will not withstand power washing. If you are concerned about theft or vandalism, an inside or second surface application is a better option.
Do you want to be able to see through the window cling?
Perforated vinyl is a great way to let in sunlight while still taking full advantage of window surface area.
How long do you want the cling to stay on the window?
The length of the application will determine the substrate, adhesive, and installation technique used to apply the graphics.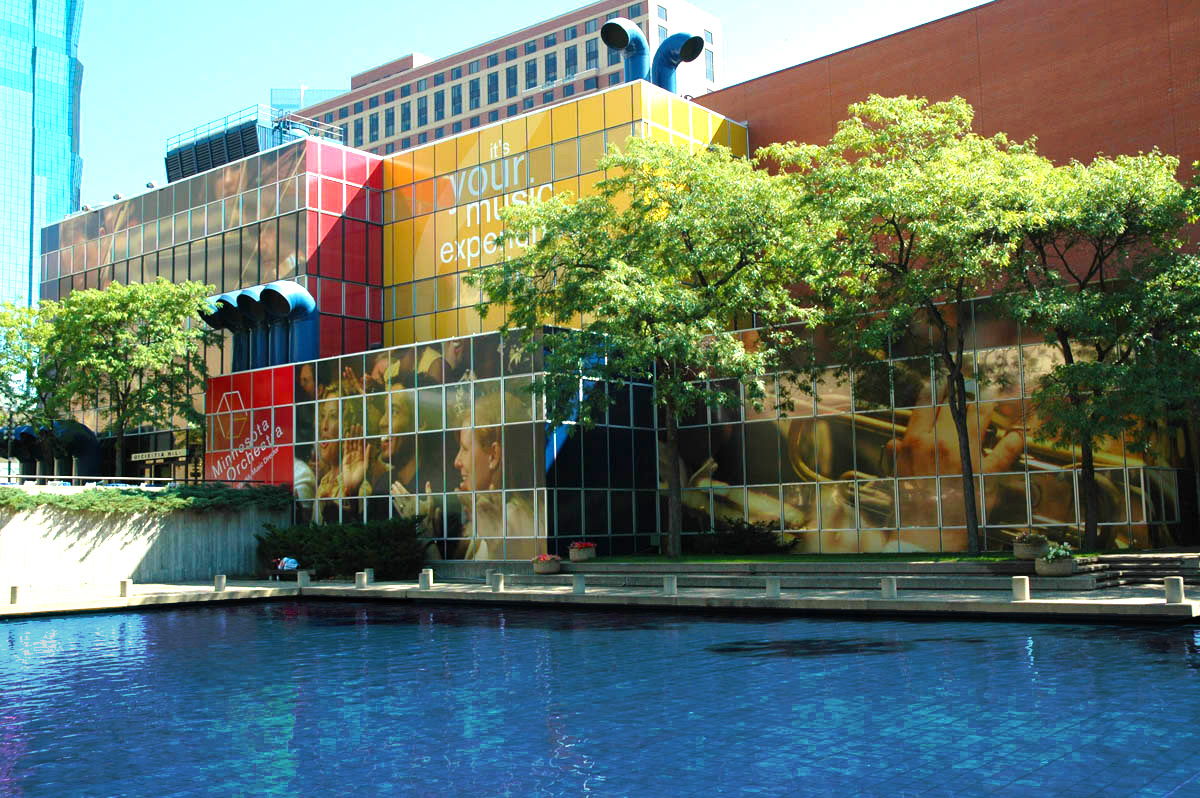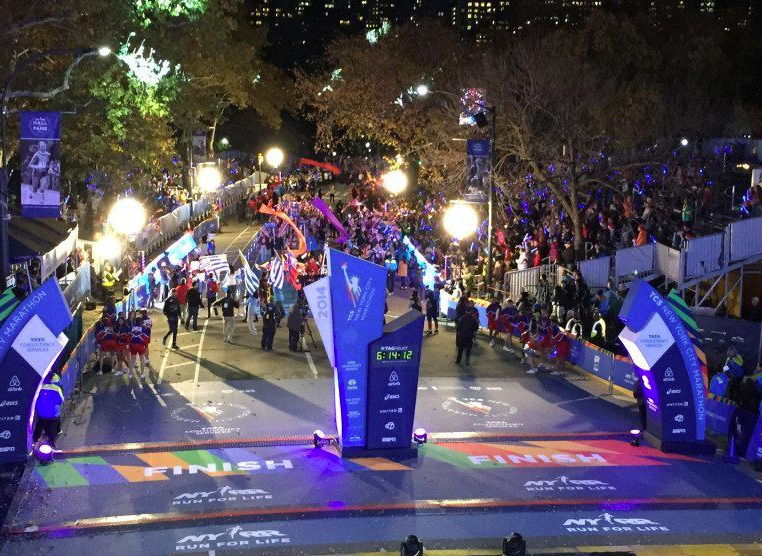 Unique Frames and Trusses
In 2013, we created an iconic look for the NYC Road Runners, to rebrand the look and feel of the start and finish lines for the NYC Marathon. We ditched the traditional truss system for a more open, branded concept that maximized the angles for camera crews and photographers. This unique solution gave the NYC Marathon an iconic, memorable image. Our team specializes in custom tension fabric structures that allow for this unique graphics that are easy to install and deconstruct.
Large Artistic Pieces
Massive murals, printed acrylic and wood panels, pressure sensitive graphics and wallpapers displayed around every corner of the new Utah Museum of Natural History in Salt Lake City.
"Fusion is proud to be a part of this spectacular local museum," said Wayne Boydstun, COO at Fusion Imaging, a division of Vomela. "The printing for the museum included some very creative technical pieces that other companies said were 'impossible' – but that's what makes us different, our ability to find solutions. Our key agency and brand partners are well aware that not all printers are cut from the same canvas."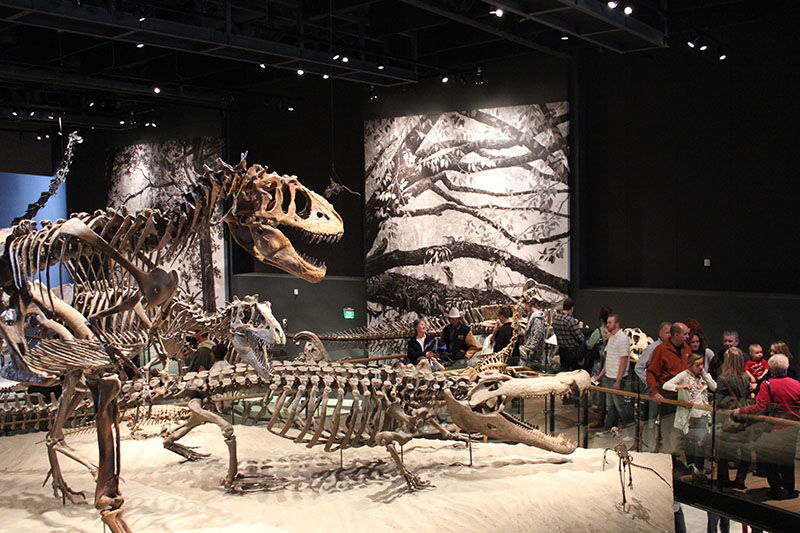 Specialty Graphics to Impress
To create a "wow" moment for visitors and spectators in a venue setting, it's often necessary to do things in a way they've never been done before. For print graphics, that means using traditional materials to create non-traditional displays.
Hosting COPA America in the United States for the first time is a big deal! Our client needed a solution that would allow multiple graphics in a short time period. This innovative idea included 331 custom hexagon frames that each had four graphics that almost magically made changes throughout the show. The creative solutions provided by Fusion Imaging made all the difference for an impressive event.
The project began with a prototype that proved our concept then moved onto big scale testing. Finally, dress rehearsal revealed the magic. We printed more than 125,000 square feet of fabric, used over 13,000 feet of aluminum pipe for 331 frames, and hundreds of volunteers. And all within a very short time from — 3 weeks from start to finish!
Installation Tips for Summer Heat
Heat can play a huge role in your outdoor event graphics. From design through installation, there are a variety of ways to ensure that hot and humid weather doesn't get in the way of your new graphics. Here are some factors to be aware of at every step in the print graphics process:
Substrate
When choosing a substrate, it's vital to understand what it can handle. Even the highest quality vinyl will wilt in the Arizona sun. Choose heat-friendly materials like aluminum, dibond, or PVC to ensure durability in a hot environment. When in doubt, consult a print professional.
Print Process
Whether it's screen printing, digital printing, or anything in between, it's important to understand how the ink application process works and how it will be affected by heat. For example, a dye-sublimated print is created by using heat to apply ink into a substrate. In a hot environment, you run the risk of reversing that process.
Adhesive
Generally, adhesives are most effective between 54 and 90 degrees Fahrenheit. At the higher end of that spectrum and beyond, many adhesives can become too aggressive due to the extreme heat. You want to be sure that an overly aggressive adhesive doesn't damage the installation surface upon removal.
Surface
The installation surface is a key factor in assessing how heat will affect your print graphics. Surfaces like glass and metal can get quite a bit hotter than other surfaces like plastic and stone, and can turn a standard installation into a sticky mess.
Installation
At the end of the day, each installation is only as good as the installer. Partnering with a print provider like The Vomela Companies will provide access to a nationwide network of certified professionals who have the ability to draw upon the institutional knowledge of their peers to get every job done right.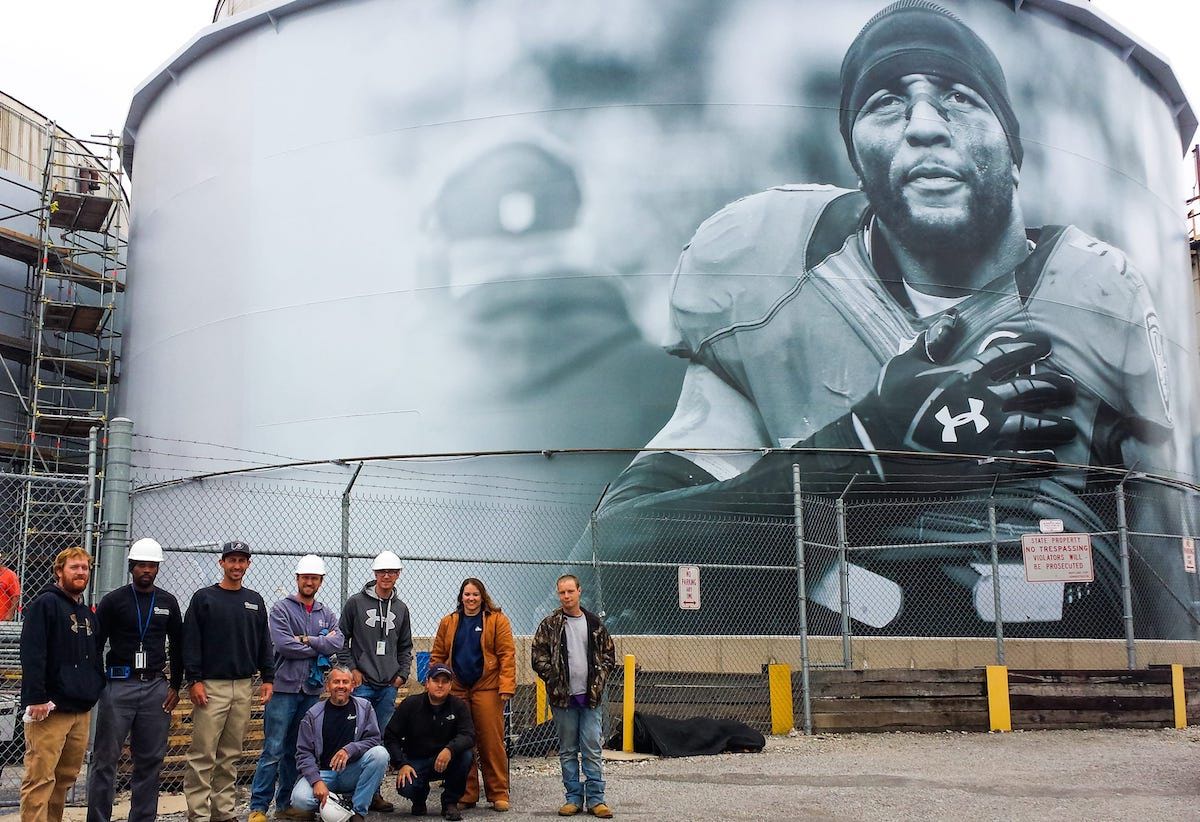 Total Event Branding Minus the Stress
Event branding for a large indoor event starts on the outside of the venue. Typically with things like window graphics, adhesive building graphics, large banners, bus wraps, and sidewalk graphics — all of which we specialize in. Once inside, the list goes on:
Stair Riser Graphics

Column Wraps

Hanging Banners

Wayfinding Signage

Large Tension Fabric Walls

Free-Standing Light Boxes

Fabric Banners

Wall Adhesive Graphics

Window and Floor Graphics

Dimensional Lettering

Custom Truss Wraps

Case Study: Super Bowl LII Host Committee
As plans came together for the 10 days of events leading up to Super Bowl LII, the Minnesota Super Bowl Host Committee invited The Vomela Companies to be their exclusive specialty graphics print partner. The Vomela Companies, headquartered in St. Paul, joined the Host Committee as an in-kind sponsor to transform Minneapolis into a Bold North landscape.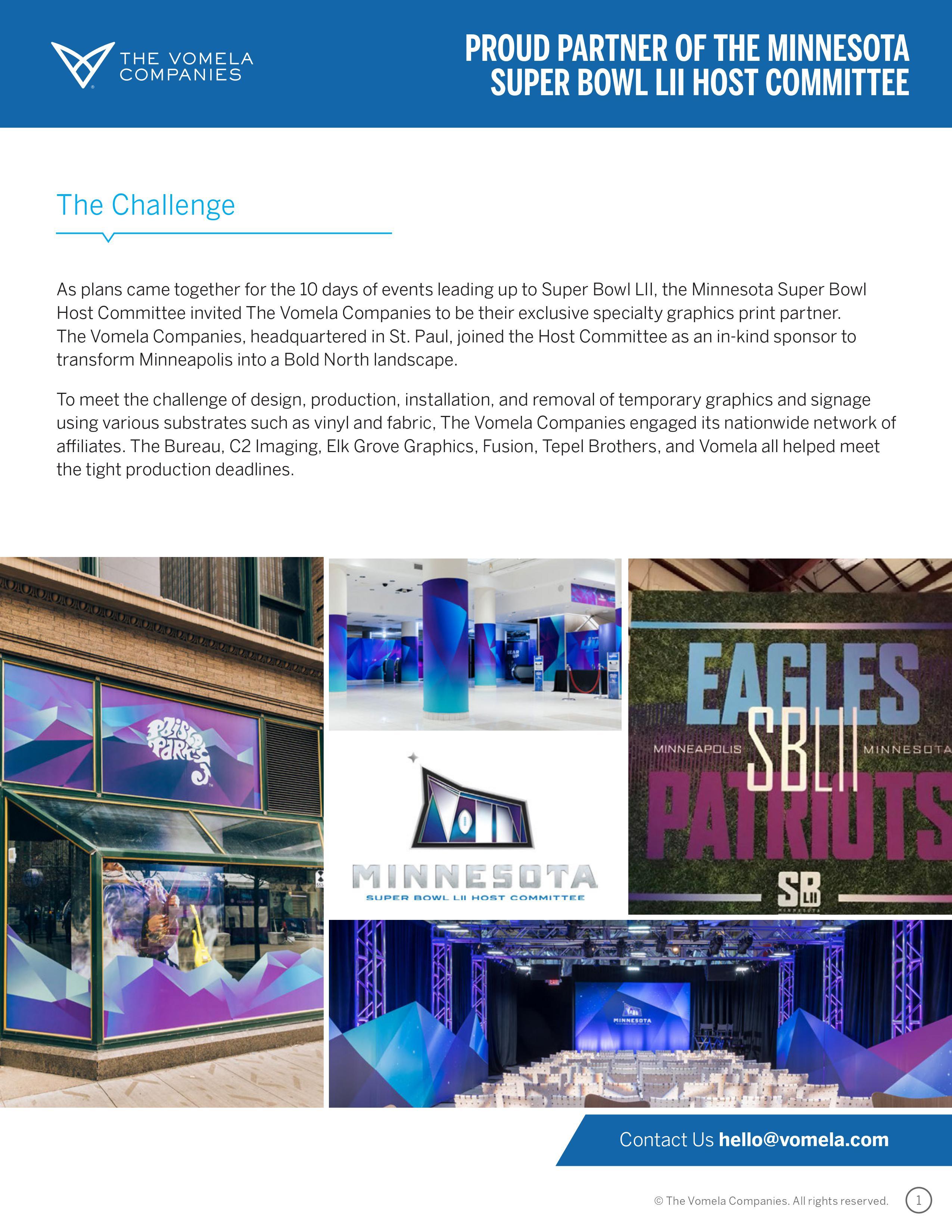 Let's Get Started
Large Format Printing
Banners (Solid and mesh)

Windows

Projection screens

Fabric

Vinyl

Adhesive

Event Materials
Printed Invitations

Direct mail pieces with personalized content

Scan-ready ID Badges

Programs

Step & Repeats

Elevator & Escalator Graphics

Window, Floor, and Stair Graphics

Tension Frames and Fabric Graphics